BB Gazette Vol.20 No.2 – The Brigade Executive have awarded the Cross for Heroism to Private George Herbert White, aged I4,  5th Sheffield Company, for saving a Boy from drowning in the River Don, on 22nd July, 1911.
Sheffield Daily Telegraph 12th September 1911 – Private George Herbert White, a member of the 5th Sheffield, St Bartholomew's Company…., has been awarded the Boys' Brigade Cross for Heroism.
Towards the end of July, White, who is about 13 years old, was with a party of several hundred children who were spending a day in the country. The lads had been forbidden to bathe, but two ventured into the Don. They had not been in the water more than a few minutes when one of them sank. His comrades tried to rescue him, but without success, and reaching the bank cried out for assistance. The shouts brought White to the scene, and, without divesting himself of his clothes, he dived into the water and brought the lad to land. The boy was insensible, but soon recovered.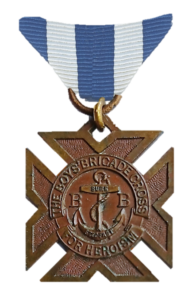 This account has been complied using records held in The Boys' Brigade Archive Collection, local and national newspaper archives and other sources. If there are any omissions or errors we sincerely apologise, and request that you come forward with this information, so that this can be corrected.
archive@boys-brigade.org.uk