IN BIRMINGHAM, January 1997 – Ben Wilson, aged 16, of the 73rd Birmingham Company has received The BB Cross for Heroism following an Incident whilst on an expedition in Snowdon.
Ben scrambled down Mount Snowdon through bad weather to help James Whitehouse, another Boy from the 73rd, who was bleeding badly from head injuries after being blown off the pathway with a freak gust of strong winds. Ben stemmed the bleeding using first aid he had learnt in the Company and saved James's life by giving medical treatment until medical assistance arrived. James was then airlifted off Mount Snowdon. The Award was for "courage and presence of mind he showed in going to the assistance of another member of the party."
Members of the 73rd Birmingham Company were present when the Lord Mayor of Solihull made the presentation to Ben Wilson.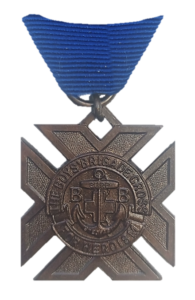 This account has been complied using records held in The Boys' Brigade Archive Collection, local and national newspaper archives and other sources. If there are any omissions or errors we sincerely apologise, and request that you come forward with this information, so that this can be corrected.
archive@boys-brigade.org.uk