BB Gazette Vol.36 No.7
The Boys' Brigade Cross for Heroism has been awarded to Lance-Corporal David H. Wren, aged 16, 1st High Bonnybridge Company, for his gallantry in saving the life of a Boy of 11 years on the 27th December, 1927.
The young Boy was sliding on Bonnybridge Loch when the ice gave way, and he fell into deep water. Lance-Corporal Wren was passing at the time, and although unable to swim, he immediately made his way to the hole and plunged in. He succeeded in seizing hold of the Boy, who by this time was under the ice, but he was forced by the numbing cold to let go. Making a second attempt, however, he succeeded in bringing the Boy to the surface, and both were assisted out of the water in an exhausted condition. The drowning Boy only recovered consciousness after 20 minutes artificial respiration, and Lance-Corporal Wren has since been suffering from muscular rheumatism as a result of his gallant deed.
Falkirk Herald, 2nd May 1928 – The annual inspection of the Falkirk and District Battalion of The Boys' Brigade took place at Firs Park, Falkirk, on Saturday…. The inspecting officer was Lord Sand, who is president of The Edinburgh Boys' Brigade Battalion. There were on parade over 400 Officers and Boys from the following sixteen companies – 1st, 3rd, 5th, 6th, 7th, 8thand 9th Falkirk, 1st Camelon, 1st and 2nd Larbert, 1st and 2nd Polmont, 1st, 2nd and 3rd Grangemouth, and 1st High Bonnybridge…. At the conclusion of the displays, the Boys were formed up on three sides of a square to be addressed by Lord Sands, who first presented The Boys' Brigade Cross for Heroism to Lance-Corporal David Wren, 1st High Bonnybridge Company, the award being in respect of an act of heroism in saving a boy from drowning.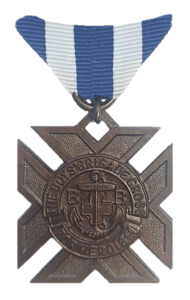 This account has been complied using records held in The Boys' Brigade Archive Collection, local and national newspaper archives and other sources. If there are any omissions or errors we sincerely apologise, and request that you come forward with this information, so that this can be corrected.
archive@boys-brigade.org.uk