BB Gazette Vol.60 No.5 – The Boys' Brigade Cross for Heroism has been awarded to Corporal M. Jennings, aged 17 of the 11th Johannesburg Company for saving the lives of two people from drowning in the sea at Uvongo on 26th December 1951.
Jennings was one of a party of Boys, in his Company's Camp at Uvongo, who were sea bathing. There was a strong backwash and the water was rough. Three people a Mr. and Mrs. Liebenberg and another man, entered the water and found that they were being washed out before they had been able to gauge the strength of the current. Jennings was attracted by the screams of the woman. He swam out to her assistance, and after a short struggle he managed to help her back safely to the beach. Meanwhile, Mr. Liebenberg and his friend had been drifting out unnoticed. Three or four people were able to assist Mr. Liebenberg's friend who was the nearer of the two, and was trying to use the breakers to get back to shore. The beach rescue line had, in the meantime, been brought to the water's edge but none of the throng would take the strap. Mrs. Liebenberg hysterically appealed to Jennings, so, although he was already tired, he fastened on the strap and swam out to Mr. Liebenberg. The standard length of the South Coast lifeline is 880 yards but by the time Jennings reached Mr. Liebenberg, the line was completely out except for ten yards. As he approached Liebenberg he was grabbed and pulled under but managed to free himself and grip the man from behind, whereupon those on the shore began to pull them in. Owing to inexperienced people pulling on the rope, Jennings was submerged repeatedly but he held on to the drowning man. Both were in a state of exhaustion when pulled on to the beach. While all the others, realising the personal danger, stood back, Jennings, who had gained his B.B. Life Saving Badge, went out to the rescue and witnesses say that if it had not been for his prompt and unselfish action, Mr. Liebenberg would have been drowned.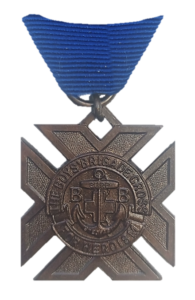 This account has been complied using records held in The Boys' Brigade Archive Collection, local and national newspaper archives and other sources. If there are any omissions or errors we sincerely apologise, and request that you come forward with this information, so that this can be corrected.
archive@boys-brigade.org.uk