BB Gazette Vol.15 No.2 – The Boys' Brigade Cross for Heroism has been awarded to Private Frank Riley, aged 13, of the 1st Whittle-le-Woods Company, for saving the life of a Boy of seven from drowning at Delph Pits, Whittle-le-Woods, on the 2nd of August, 1937.
A party of small children were walking along the edge of a deep flooded quarry when a Boy of seven fell over the edge into the water and disappeared. Frank Riley dived in fully clothed although he knew that this point was notoriously dangerous. Riley is not an expert swimmer, but he succeeded in seizing the child and although the little Boy's weight pulled him underneath repeatedly he continued to struggle to the side. There would probably have been a double fatality but for Harry Langton, who came on the scene in time to scramble down to a ledge from which he was able to rescue both the Boys.
The Diploma for Gallant Conduct was awarded to Private Joseph Harry Langton, aged 15, of the 1st Whittle-le-Woods Company, for his role in the rescue.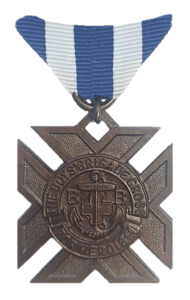 This account has been complied using records held in The Boys' Brigade Archive Collection. If there are any omissions or errors we sincerely apologise, and request that you come forward with this information, so that this can be corrected.
archive@boys-brigade.org.uk