BB Gazette Vol.29 No.8 – The Cross for Heroism has also been awarded to Private Percy Warnes, 3rd Northampton Company, for saving a child from drowning at the risk of his own life.
Warnes was playing football when a cry was raised that a child was drowning in the river nearby. Warnes rushed to the spot, and without pausing plunged from the bank, swam to the child, and succeeded in saving him.
This is the second act of gallantry performed by Warnes, who on Whit Monday of last year, before he had joined the Brigade, saved a Boy from drowning under similar circumstances.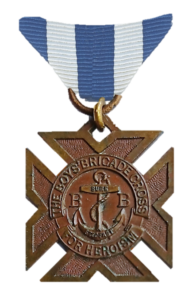 This account has been complied using records held in The Boys' Brigade Archive Collection, local and national newspaper archives and other sources. If there are any omissions or errors we sincerely apologise, and request that you come forward with this information, so that this can be corrected.
archive@boys-brigade.org.uk