The BB Gazette for March 1915 together with an illustration of the certificate, announced the introduction of the Diploma for Gallant Conduct. The subsequent regulations stated:
The Diploma for Gallant conduct is awarded to Boys who have shown gallant conduct in attempting to save life, or marked courage in the face of danger, unaccompanied, however, by the high degree of heroism which would merit the awarding of the Cross for Heroism.
Two boys stand out particularly in the awards as they have the distinction of gaining both the Cross for Heroism and the Diploma for Gallant Conduct – a very notable achievement indeed. Andrew Bruce of 1st Falkirk won the Cross in 1926 when he was 13 by saving someone from drowning. Then in 1928 he saved another person from drowning this time being awarded the Diploma. Private Charles Barff (14) of 4th Leeds achieved the distinction in the reverse order but in the same year. In May 1931 he saved a person from drowning, was awarded the Diploma and then in July saved a second person from drowning gaining the Cross for Heroism.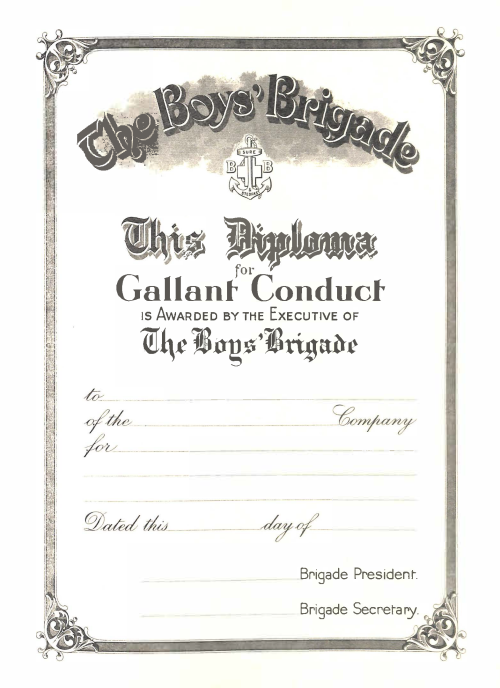 The list of recipients for the BB Diploma for Gallant Conduct has been complied using The BB Gazette, Minutes of The Boys' Brigade Executive Committee and other sources. If there are any omissions or errors we sincerely apologise, and request that you come forward with this information, so that the records can be corrected.
archive@boys-brigade.org.uk