The preservation and restoration of film is such a vital part in keeping history alive, and this is no different at The Boys' Brigade.
Our archive holds a large collection of historic motion footage, in various formats. In 2021, we were able to digitise over 120 of our old magnetic video tapes, maintaining and protecting their legacy for years to come. Now, we need to tackle preserving over 100,000 feet of decades-old film stock.
Every journey starts with a small step, and we have identified a select number of films with particular significance or interest which we would like to digitise first, making these available for both past and present members, and also including as edited videos in this Virtual Museum experience.
If you would like to support us in this endeavour, please consider using the PayPal donation buttons below to support the immortalisation of your chosen film as a digital video. Just £20 will allow us to digitise 50 feet of film stock and keep the history of The Boys' Brigade alive for future generations. You can even boost your donation through gift aid—at no extra cost—and help us reach that target faster.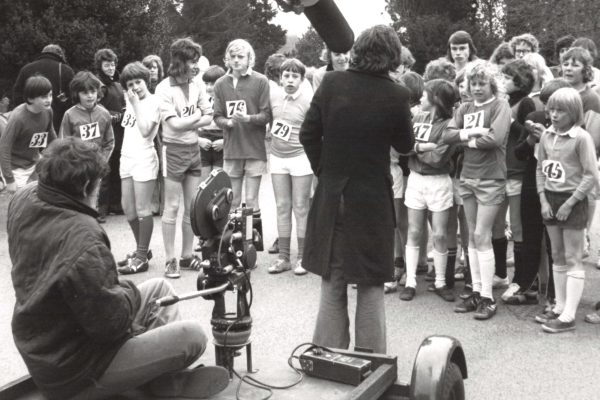 Filming 'The Pacemakers' in 1974
The BB Archive accepts deposits of 8mm & 16mm Cine Film, as well all formats of magnetic Video tapes.
If you would like further information about the film archive, or additional ways to support the digitisation work, please email: archive@boys-brigade.org.uk
There may be a delay between the receipt of donations and the updating of the donation progress indicators.
Centenary - The film of the year